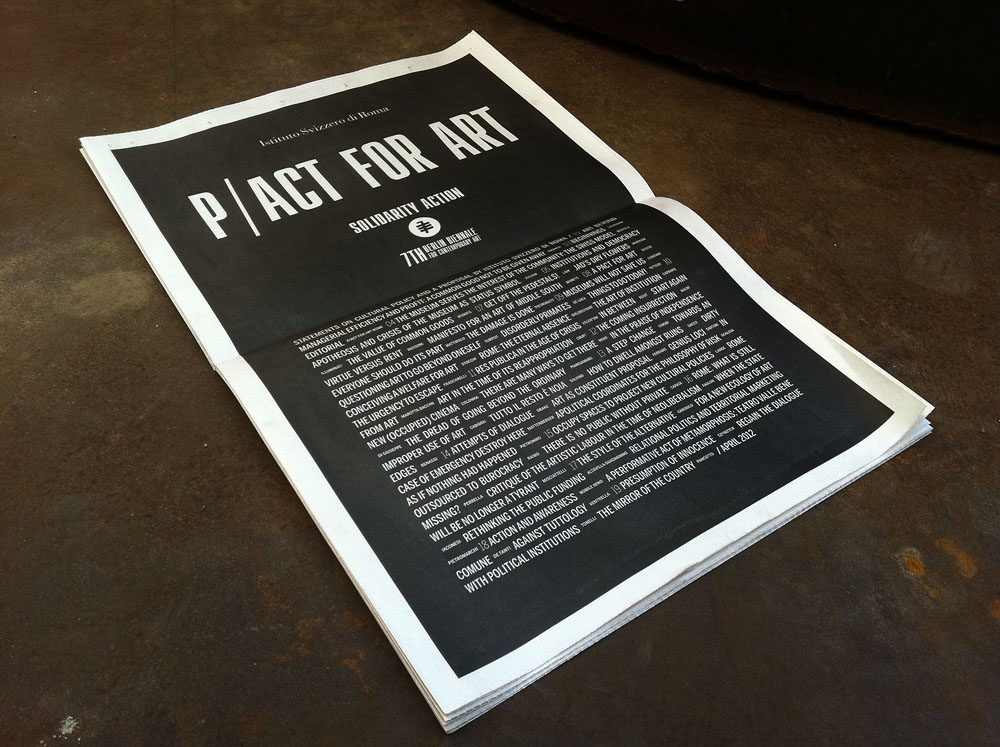 From April 25, on the occasion of the 7. Berlin Biennale opening, P/Act for Art_ROMA, a magazine published by Istituto Svizzero di Roma, will be distributed for free at the entrance of KW – Institute for Contemporary Art.
P/Act for Art_ROMA, based on the ten questions published in the first Berlin edition last autumn, is a critical reflection on the condition of the institutions, cultural politics and art production in Rome.
P/Act for Art_ROMA is a collection of over fifty contributions by the protagonists of the Roman cultural scene. It highlights the heterogeneity of the artistic panorama through the viewpoint and the variety of experiences of those who are actively involved in the cultural field. Personal comments go side-by-side with contributions that narrate collective practices, displaying a true laboratory to rethink the institutions of the world of culture, crossing fields of art, political activism and theoretical reflection.
P/Act for Art_ROMA includes contributions by: Marco Altavilla and Paola Guadagnino, Andrea Baccin and Ilaria Marotta, Elisabetta Benassi, Tobia Bezzola, Ilaria Bussoni, Leonardo Cabiddu, Cecilia Canziani, Paola Capata, Guelfo Carbone, Stefano Chiodi, Ciro Colonna, Chiara Crupi, Sylvia De Fanti, Tomaso De Luca, Marco Di Giuseppe, Adrienne Drake, Laurent Faulon, Alessandra Ferraro, Raffaella Frascarelli, Marta Gargiulo, Goldiechiari, Salvatore Iaconesi, Augusto Illuminati, Pascal Janovjak, Salvatore Lacagnina, Filippo Lange, Cornelia Lauf, Teresa Macrì, Miltos Manetas, Luc Mattenberger, Anna Mattirolo, Flavio Misciattelli, Nero, Emanuela Nobile Mino, Pierpaolo Pancotto, Cristiana Perrella, Alessandro Piangiamore, Cesare Pietroiusti, Bartolomeo Pietromarchi, Giuseppe Pietroniro, Christian Raimo, Delphine Reist, Christoph Riedweg, Stefano Rodotà, Davide Sacco, Andrea Salvino, Fabrizio Sartori, Auronda Scalera, Maria Rosa Sossai, Francesco Stocchi, Carla Subrizi, Adam Szymczyk, Massimiliano Tonelli, Valentina Valentini, Francesco Ventrella, Valentina Vetturi, Artur Żmijewski, Stefania Zuliani.