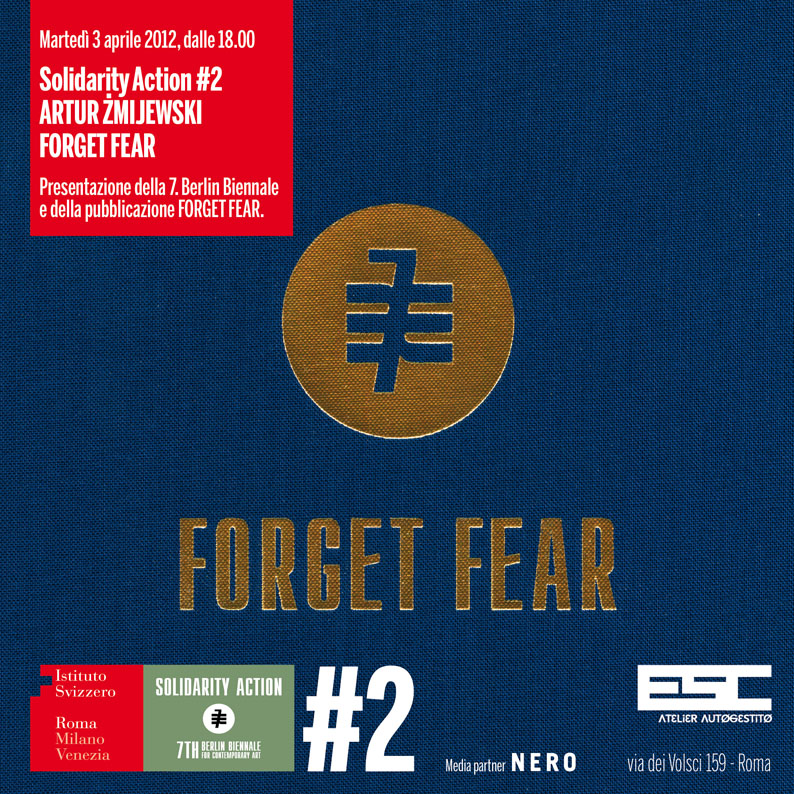 "Art will never get out of its own ghetto until someone comes to need it. Among those who need it might be social movements that work toward solving the economic and political needs of societies all over the world. Unfortunately, these movements seem not to need artists to achieve their goals. Art needs to be reinvented…" Artur Żmijewski 
Edited by Artur Żmijewski and Joanna Warsza, Forget Fear – the first publication of the 7th Berlin Biennale – is a report on real action within culture, on the uses of artistic pragmatism. It is about concrete dealings by artists, curators, and politicians that lead to visible effects.
"We're interested in finding answers, not asking questions. We're interested in situations where art acts for real and solutions are proposed and implemented responsibly. We are interested neither in preserving artistic immunity nor in distancing ourselves from society. We consider politics to be among the most complex and difficult of human activities. We sought out people – artists, activists, politicians – who engage in substantive politics through art."

Forget Fear includes texts and conversations with political leaders such as Antanas Mockus, former mayor of Bogotá, who has significantly contributed to social change with a political theory stemming from art; theater-maker Árpád Schilling, who abandoned bourgeois theater to act directly within the political context of right-wing Hungary; Voina Group, who doesn't believe in art without engagement; Tímea Junghaus, who uses art in a struggle against the oppression of the Roma people in Europe; the Brazilian underclass tagger groups Pixadores, who attacked the Sao Paolo Biennale; and the Icelandic Best Party, which came to power after the financial crash in 2008.
All these actors use performative tools in order to make their cases, and to reveal the social and political forces and interests lurking in the background. With this first publication, we present leftist engagement not only as a critical, self-referential condition, but also as a proposition for empowerment and a productive set of political practices."
With contributions (amongst others) by Paweł Althamer, Gábor Bakos, Yael Bartana, Einar Örn Benediktsson, Daniel Blatman, Christian Boltanski, Galit Eilat, Olafur Eliasson, Julián García, Jón Gnarr, Jan Tomasz Gross, Jerzy Hausner, Péter Juhász, Gideon Levy, Renzo Martens, Antanas Mockus, Joanna Mytkowska, Luis Ospina, the Pixadores, Srđa Popović, Alison Ramer, Dorota Sajewska, Árpád Schilling, Marcin Śliwa, Igor Stokfiszewski, Hans-Christian Täubrich, Joanna Tokarska-Bakir, Fernando Vallejo, the art collective Voina, Zofia Waślicka and Rafał Żurek as well as a CD by Teresa Margolles.
Artur Żmijewski (Warsaw, 1966) began working as an artist in the mid Nineties, when he followed sculpture courses held by Grzegorz Kowalski at the Fine Arts Accademy in Warsaw together with Katarzyna Kozyra and Pawel Althamer. During those years he worked mainly with photography and video: he approached the themes of repression and social traumas and provoked a social debate through his artistic expression. His work became famous / known for the photographic series An Eye for an Eye (1998-2000): here Żmijewski worked with a group of physically disabled people.
In 2005 he represented Poland at the 51st Venice Biennale with the film Repetition (2005). In 2007 he published a series of interviews with artists entitled "Drżące ciała" (Shivering Bodies).
He collaborates regularly with the Foksal Gallery Foundation and is Art Director of the left-wing social-political magazine Krytyka Polityczna. This collaboration with KF gave him the opportunity to theorize on his artistic position through articles such as "Stosowane Sztuki Społeczne" (The Applied Social Arts). Published for the first time in the magazine in 2007, "The Applied Social Arts" provoked a growing debate with regard to the question of the necessity of contemporary art to have a substantial impact on society. In his manifesto, Żmijewski analyzes several particular situations in which he defines "art as politics" but "without the politics / political aspect", and describes the condition by which art feeds its political potential in the context of the art system, in the galleries for example, but not on the plane of real confrontation that takes place on the other side, such as through the media. Artur Żmijewski lives and works in Berlin and Warsaw.
ESC is a self-managed and autonomous atelier, occupied since 2004 and mainly composed by students, researchers, precarious workers. This self-run space includes different projects, such as LUM – LIBERA UNIVERSITÀ METROPOLITANA and assistance services to precarious, students and immigrants. As a research and political center, ESC is a place of organization for precarious work and social struggles on a metropolitan, european and global level.
www.lumprojects.org – www.escatelier.net
In collaboration with ESC self-managed and autonomous atelier
Media partner NERO
Tuesday April 3, 2012
6 p.m.
Consecutive translation
ESC self-managed and autonomous atelier
via dei Volsci 159 – Rome
www.istitutosvizzero.it | www.escatelier.net